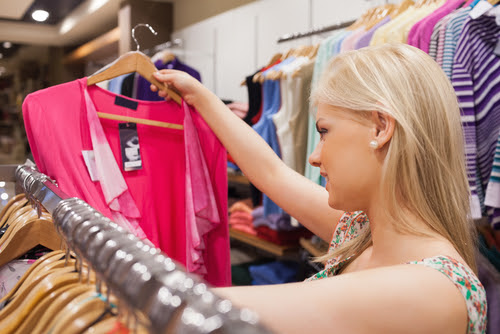 This fabulous blog post is comes from  Kendal Perez of HassleFreeSavings.com.
While Labor Day weekend offers a nice three-day reprieve for most of us, it also signals the end of the summer season. Our only consolation for letting go of warm days and late nights is the summer clearance sales that come with the closing of the season.
As with most shopping holidays in recent years, Labor Day sales are showing up earlier than normal. However, the best deals are worth waiting for, and since fashionistas aren't known for reigning it in during a good clothing sale (myself included), I've rounded up seven ways to make the most of summer clearance sales.
1. Make a List Even the most reserved person can freak out during sale time, since everything appears to be such a good deal. Making a list of wardrobe gaps helps narrow your search and keeps you on track. By knowing exactly what you're shopping for, you keep your budget in check while making the most of those clearance prices. Plus, you don't end up buying yet another camel cardigan.
2. Stick to the Sales Sales and clearance items help get customers in the door. Often times, retailers will place clearance items at the back of the store so shoppers have to walk by the new arrivals before hitting the discount racks. This can prove too challenging for some, who leave the store with more than they bargained for (literally!). Stick to the sales and avoid being distracted by the full-priced options. Remember, everything goes on sale eventually.
3. Find Coupons for Added Savings Most seasonal clothing clearance sales offer savings of 50 to 75-percent off. However, the deals don't have to stop there; you can deepen discounts with coupons. For example, you can print this coupon from Coupon Sherpa for an extra $10 off your apparel purchase of $69 from Kmart (Sofia Vergara shift dress, anyone?), or save an extra 15-percent off your purchase from Kohl's.
4. Be Wary of Trends Seasonal trends that didn't quite catch on will clutter clearance racks. If a trend didn't do much for you at the beginning of the season, there's no sense in wasting money on it now, even at reduced rates. If you secretly wanted to try crop tops or a geometric print dress, by all means pick them up on sale! Otherwise, stick to classic pieces and silhouettes.
5. Shop for Layers Keep your eyes peeled for garments you can wear next season and beyond. Fitted tanks, jersey tees and light cardigans all make great layering pieces for cool, autumn days. Need a little guidance when it comes to layering? Check out these seven layering tips for fall, showcased (of course) by stylish celebrities.
6. Look Out for Luxury This one's for all those label lovers out there. Though you're not likely to find a pair of discount Louboutin's anytime soon, designers do put their summer leftovers on sale during Labor Day weekend. According to DealNews, retail stores including Nordstrom, Ralph Lauren, Tory Burch and DKNY offered end-of-summer clearance sales of up to 60-percent off last year.
7. Ask the Right Questions Cheap, chic clothing can sabotage even the savviest spender, so it's important to have some strategies on hand to keep yourself in check. Ultimately, asking yourself the right questions is key to avoiding buyer's remorse. Check out this handy guide of 12 such questions from Who What Wear, and never regret another apparel purchase again.
Kendal Perez is a frugal blogger who helps fellow shopaholics find hassle-free ways to save money. As the Marketing Manager for Kinoli Inc., site manager for a family of money-saving websites, Kendal has the resources to be an extreme couponer but prefers a less complicated approach to staying in-budget. For savings tips and more information, visit HassleFreeSavings.com.