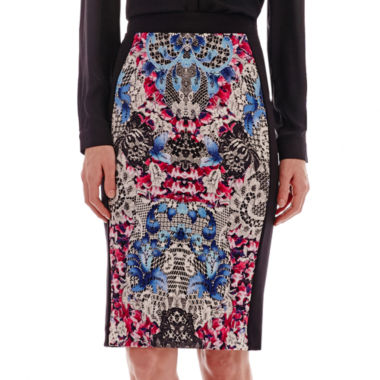 I have worked in offices where badly dressed women wore everything from leggings to pajama pants to too short mini skirts. If you want to stand out from the slobs in a business environment, skip the leggings and dress to impress in office proper pencil skirts from J.C. Penney.
This fashion forward nicole by Nicole Miller Print Pencil Skirt is ideal for creative careers that encourage stylish self expression. The knit skirt features a distinctive center-front floral lace print panel designed to  visually lengthen your silhouette, so you look sleek and chic on the job.
With it's asymmetrical front zipper ending in a front slit dividing two different fabrics, this Worthington Envelope Skirt delivers a contemporary twist on the classic pencil skirt. A sophisticated skirt like this is posh enough for the corner office and stylish enough to show your colleagues that you are no stuffed shirt!
A modern, graphic design and a super-soft stretch-knit make this Bisou Bisou Print Midi Skirt a great choice for work and beyond into happy hour. crisp and contemporary. A black and white patterned skirt works best with a solid color top in a bright enough color that it's not going to be upstaged by the eye catching abstract print.