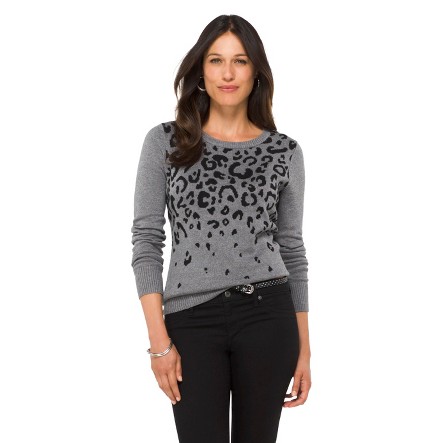 A sweater can either look fabulous or frumpy depending on the style. The identify that that fabulous sweater and avoid the frumpy unlfattering options look for a medium weight fabric, a proper fit and some sort of pattern that visually breaks up the expanse of fabric. Here are some fabulous and frugal sweater options I found at Target. This Printed Pullover Sweater - Merona has a nice trim fit, and a fierce animal inspired pattern on top breaks up that space visually, which is very flattering if you happen to be top heavy.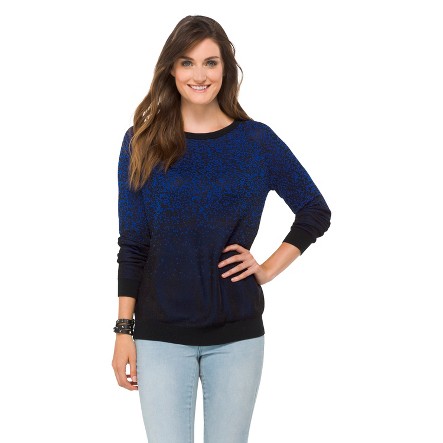 Instead of dividing the body into two separate blocks of color, which can visually shorten and widen the body, This  Jacquard Sweater - Mossimo  features a royal blue color on top infused with bits of black that fades into a solid black towards the bottom. This graduated use of color draws the eye up towards the neckline while downplaying your waistline.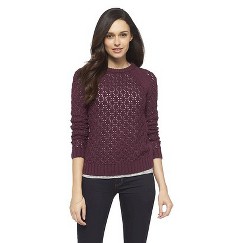 The open knit design and slim silhouette of this Raglan Sleeve Sweater - Cherokee reduces bulk so layering looks chic, not heavy. For a super slimming effect, pair a see through sweater like this with a darker piece underneath. For example, this plum colored sweater layered on top of a solid black T-shirt and dark wash jeans for a flattering combination of rich dark colors that flow together without looking matchy, matchy.