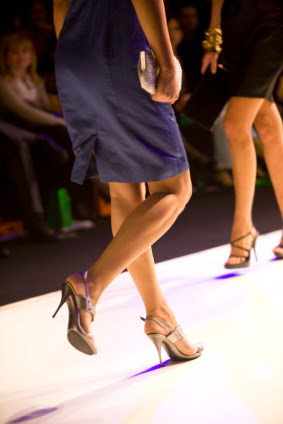 I didn't think designer duds could be a part of my wardrobe, until I received this article from consumer expert Adrea Woroch. 
As the New York Mercedes-Benz Fashion Week wraps up, I feel inspired and deflated all at the same time. Despite drooling over the luxury looks paraded down the runaways and on A-List attendees, I know the coveted brands are out of my financial reach. To overcome these Fashion Week woes, I put together these eight shopping strategies to find luxury looks from high-end designers at a fraction of the cost. Happy shopping!
1. Buy Used. Thrift stores that specialize in the resale of designer labels are popping up all over the place, including on the Internet. Virtually browse endless selections of second-hand luxury fashion for up to 80-percent off at sites like SnobSwap.com, Vaunte and Walk in My Closet. Merchandise is carefully reviewed to ensure quality and authenticity so you can shop confidently, but be aware that such consignment shops have strict return policies and many do not accept returns at all.
2. Browse Boutique Sale Racks. Typically, boutique shops featuring designer clothing and accessories will price items higher than you would find at mainstream stores. However, these types of stores are good for snatching up sales on discontinued or clearance items. Since smaller boutique retailers don't have a warehouse store to send overflow or out-of-season garments, you can typically find huge markdowns. Avoid the new arrivals and head right to the sale rack!
3. Splurge on Classics, Save on Trends. If you're going to splurge on luxury clothing items, stick to classic styles and colors that will transition through the seasons and years so you can get as much use out of them as possible. For instance, a quality pair of name-brand black boots will get a lot of use and give you more value, while a trendy blouse may only get worn a couple of times before it ends up in the back of the closet.
4. Look for Exclusive Collaborations. Budget fashionistas have been jumping up for joy upon hearing the recent news that Target is collaborating with Joseph Altuzarra to release an exclusive collection on September 14. Such exclusive designer and discount store collaborations make it possible for everyday consumers to score luxury looks paraded on runways. For more affordable fashion, check out Elie Tahari at Kohl's (available Sept. 26) or Alexander Wang for H&M (available Nov. 6).
5. Apply a Coupon. Most shoppers assume that high-end stores and brands don't offer coupons, but the contrary is true. In fact, sites like CouponSherpa.com offer printable and online coupons for a variety of luxury retailers including Saks Fifth Ave, where you can get 10-percent off by signing up to receive their e-newsletter, and Blue Fly, offering 15-percent off your first order.
6. Dig Through Discount Stores. Though it may take a little bit of digging through racks, search for the latest fashion trends and name brands at discount stores like Marshalls, Nordstrom Rack, DSW and Century21 to receive an average of 60-percent savings. I recently found a pair of Joe's Jeans for under $60 that were originally priced at over $160! Don't forget to head to the clearance racks for even deeper discounts on the already reduced prices.
7. Search Flash Sales. Shop flash-sales websites, like Gilt Groupe and MyHabit, which feature designer looks from Zac Posen, Shoshanna and Kate Spade for 50-percent to 70-percent off. Returns are accepted on most orders but you may have to pay return shipping and only be eligible for merchandise credit, so make sure to read the fine print and don't buy on impulse. If you do end up with something you don't like, return it and sell the merchandise credit using GiftCardGranny.com, where you can up to 92 percent of your money back.
8. Negotiate. Never thought you could negotiate on designer labels? Think again. These days, many retailers are willing to negotiate with shoppers by adjusting prices based on competitor offers. Even high-end retailers like Nordstroms, Bloomingdales and Revolve Clothing are playing ball. Though they don't prominently advertise it in store, keep your smartphone handy before checking out and compare prices using the RedLaser app. You just may find a certain designer good for less elsewhere and be able to negotiate.
Andrea Woroch is a nationally-recognized money-saving expert for Kinoli Inc., who helps consumers live on less without radically changing their lifestyles. From smart spending tips to personal finance advice, Andrea transforms everyday consumers into savvy shoppers. You can follow her on Twitter for daily savings advice and tips.