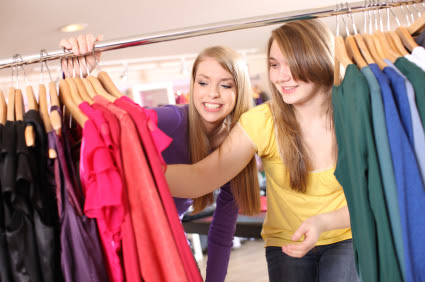 These timeless shopping tips from consumer expert Andrea Woroch will save you money long after the back to school shopping season is over.
Teens heading back to school aren't worried as much about what they're going to learn as they are about what they're going to wear. That's probably why parents are feeling pressured to buy brand-name clothing during the shopping rush. In fact, a whopping six in 10 parents plan to splurge on designer labels and over 34 percent admit that half of such purchases are influenced by their kids.
The push for pricey fashion comes from the adolescent desire to fit in. Before you run off to fulfill everything on your teen's wish list though, consider turning this into a lesson on money management. After devising a clothing budget together, help your child shop savvy with these six clothing buying tips.
1. Shop second hand. Browse racks of gently-used clothing at a consignment store where you can find designer denim, shirts and sweaters for up to 80-percent less than you would pay at a department store. You may get lucky and discover new clothing with the original tags attached. If you're unsatisified with the selection at your local thrift store, head online to thredup.com and RecycleYourFashions.com, or browse the Poshmark mobile app for endless used fashion choices. Bonus: urge your child to sell old clothes for credit toward his or her new purchases.
2. Browse end-of-season styles. As retailers clear out summer merchandise to make room for fall trends, this is a good time to snatch up end-of-season styles like dresses, tank tops, shorts and sandals at up to 75-percent off. Considering such warm weather clothing is appropriate for the first several weeks of school before temperatures drop, this will buy you time to pick up fall and winter essentials when the holiday sales roll around.
3. Never pay full retail price. Clothing retailers understand today's shoppers are savvy, which is why stores frequently release coupons to attract buyers. Adopt the habit of checking for coupons and comparing prices before purchasing anything. Use the Pricegrabber app for in-store price comparison and TheFind.com for quick online price checks. Download Coupon Sherpa's free coupon app to find clothing coupons on popular stores and brands like this coupon to Aeropostale for $15 off $75.
4. Check out discount stores. Though it may take a little bit of digging through racks, search for the latest fashion trends and name brands at discount stores like Marshalls, Nordstrom Rack, DSW and Century21 to receive an average of 60-percent savings. I recently found a pair of Joe's Jeans for under $60 that were originally priced at over $160! Don't forget to head to the clearance racks for even deeper discounts on the already reduced prices.
5. Sign up for savings. By simply signing up to receive a retailer's emails, you will be privy to new-subscriber deals like 10-percent off at Bloomingdales or 20-percent off at H&M. I've created a separate email for these digital newsletters to avoid an overabundance of offers in my personal account. You can also streamline your subscription with ShopItToMe.com, a website that scours the web daily for deals and delivers customized sale summaries based on you or your child's favorite stores, brands, style and size. This is an easy way to save time when searching for savings.
6. Spend on classics, save on trends. When it comes to basics like tees and tanks, stick to generics at stores like Target and Old Navy. For the latest trends, keep it cheap at Forever21 since the bold styles change quickly. The only time it's wise to spend more is on quality, classic items that are used often, like a little black dress, navy pea coat or brown leather boots which won't go out of style the following season.
Andrea Woroch is a consumer and money-saving expert for Kinoli Inc., who helps consumers live on less without radically changing their lifestyles. From smart spending tips to personal finance advice, Andrea transforms everyday consumers into savvy shoppers. You can follow her on Twitter for daily savings advice and tips.